Kodály String Quartet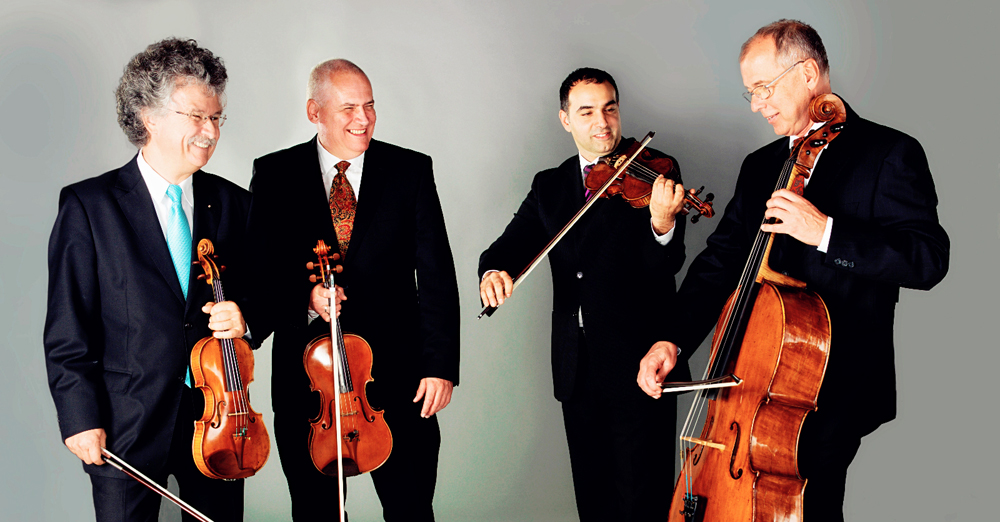 Kodály String Quartet celebrates its 50th anniversary in 2016. This world renowned quartet was founded in 1966 by students of the Ferenc Liszt Academy, and named after the Hungarian composer Zoltán Kodály since 1972. The prestigious quartet has received numerous awards, including Ferenc Liszt Award, Artist of Merit of the Hungarian Republic, and Bartók-Pasztory Award.The Kodály Quartet has recorded the complete Haydn, Beethoven and Schubert quartets, among others. Their records were met by critical applause worldwide, and many of them, including quite a few Haydn chamber music works, received the British "Penguin Guide to Recorded Classical Music" three stars outstanding rating or above. Classic CD Magazine awarded their "Haydn: String Quarte Op. 64" Best Chamber Music Release.
The first violinist Attila Falvay awarded the Second Prize at the Szigeti International Violin Competition. The following year he won the First Prize in the Hubay Competition. The second violinist Ferenc Bangóis prizewinner of national and international competitions, leader and soloist of the Chamber Orchestra of the National Philharmonic and the Solti Chamber Orchestra for several times. The violist János Fejérvári was principal violist at the Budapest Opera,also a founder member of the Budapest String Chamber Orchestra. The Cellist György Éder was principal cellist of the Budapest Symphony Orchestra and later of the Budapest Festival Orchestra for several years, and a founder member of the Éder String Quartet.
The quartet were and are the ambassadors of Hungarian string quartet culture both internally and on international levels. They toured with great success in the last few decades in almost all European countries, as well as in the United States, Japan, China, India, Australia and New-Zealand. To present the works of Kodály and other Hungarian composers is of great importance for them. Recently, the Kodály Quartet is awarded the most respected cultural prize "Hungarian Art Pirze".