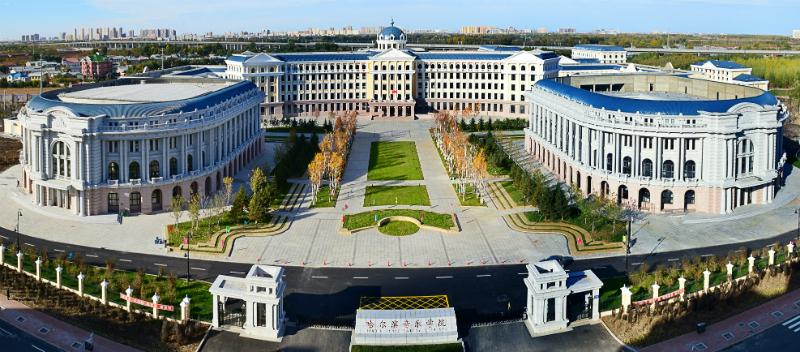 HARBIN CONSERVATORY OF MUSIC
Harbin Conservatory Of Music is located at No.3179 Xue Zi Street, Song Bei District, Harbin, which is called "the city of music" by United Nations. As the only independent establishing state-run institution of higher learning for arts of Heilongjiang Province, Harbin Conservatory Of Music is trying to become the one of the best domestic and international well-known institutions of higher learning for fine arts by adhering to the concept of "feature-oriented and cutting-edge development for elite cultivation with high starting point".
Full range of discipline and speciality: Harbin Conservatory Of Music has a doctor's degree awarded authority in two disciplines, a master's degree award authority in two disciplines and professional master's degree in arts. The Conservatory has departments of musicology, composition, vocal music and opera, traditional Chinese vocal music, orchestral instruments, traditional Chinese instruments, and piano, with three majors of musicology, Composition and Theories of Composition, and music performance, and with nine major training orientations. Outstanding Faculties: The Conservatory has seventy-one full-time teachers, among whom sixty-three are Chinese with four doctorial tutors, twenty-four master tutors, three experts enjoying the special government allowance, and eight are Russian with vice-doctorate , four associate professors. Chinese teachers are undertaking seven national social science fund projects.
Excellent equipment and facilities: The Conservatory has one music hall, one recording studio , two hundred and ninety-four piano rooms and nine all kinds of rehearsal halls, and becomes the first Conservatory with three hundred Steinway & Sons pianos nationwide, which can meet teachers and students' demands of teaching, rehearsal and performance.
Feature-oriented education: The Conservatory lays emphasis on the cooperation of education between China and Russia and has established profound and wide-ranging teaching cooperation mechanism with Russia in the level of teaching, research, creation and performance. Eight Russian experts are being hired as teachers of the Conservatory, among whom two have been appointed as deans of departments of piano and orchestral instruments.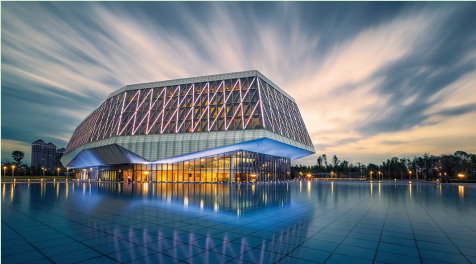 HARBIN CONCERT HALL
Located in Golden River Park in Qunli New District, the New Harbin Concert Hall occupies a total construction area of 36109 square meters and a total height of 30 meters. Among them, the total ground floor area is 11850 square meters, the total gross floor area is 24259 square meters and the amount of parking spaces is 441. The New Harbin Concert Hall contains a 1200-seat big hall, a 400-seat small hall, a waiting hall for audiences, a VIP lounge, a greenroom, etc. The project of the New Harbin Concert Hall formally started in May 2011 with a total investment of 690 million yuan. It is a major cultural project of Harbin as well as a key project of Qunli Culture Demonstration Area of Heilongjiang Province.
The New Harbin Concert Hall is designed by world-renowned Arata Isozaki & Associates Shanghai with the overall modeling of "Floating Ice Crystal". This design concept is coordinated with the Ice Sculpture Art of Harbin as well as the Ice and Snow Culture Design of Qunli New District, making the New Harbin Concert Hall into another new landmark building of Harbin. The New Harbin Concert Hall is glittering and translucent against the night sky, as if a bright diamond lights up the night of "Music City".
The New Harbin Concert Hall is known as the largest public cultural facility based on music performances with the most advanced equipments in Heilongjiang Province. The New Harbin Concert Hall will continue to meet people's spiritual and cultural demand and promote the healthy development of Harbin culture and art undertakings.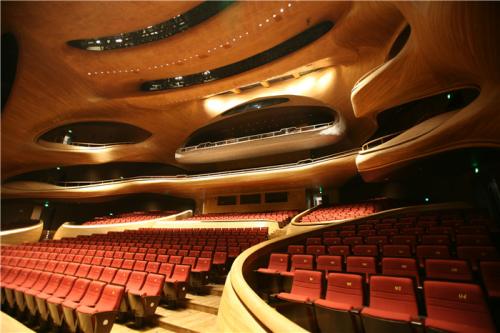 HARBIN GRAND THEATER
Harbin is a city famous for its over one hundred year old Symphonic Orchestra. From 1961 up until now, 32 seasons of the "Harbin Summer Music Concert" have been successfully held there, adding to the city's exceptional reputation across the country. In 2010 it became the first city in Asia named "Music City" by the United Nations and remains the only one in China to carry this title. To even further highlight Harbin's cultural potential the Harbin Municipal Government decided to build Harbin Grand Theatre as a leading, national, state of the art – theatre for the city's music loving population.
Harbin Grand Theatre is situated on Songhua river's north bank, at the heart of the Sun Island Scenic Area, and in close proximity to Harbin's famous Siberian Tiger Park. Conceived by Beijing's MAD Architects Harbin Grand Theatre breaks with traditional design concepts. Appearing as if sculpted by wind and water, the building seamlessly blends in with nature and the topography of the surrounding wetlands. Resembling a silver ribbon in the sky in summer, the construction melts into its snowy environment during winter. The project cost is an estimated 1.279 billion Yuan Renminbi excluding interests and loans and its construction was entirely covered through self-raised funding by Songbei district. Covering a total of 79.000 square meters with a construction area of 72.000 square meters, the site consists of the Grand Theatre's opera house (1538 seats), a small stage (414 seats), a box office and 470 parking spaces. The opera house measures 56,48 meters in height and serves as a venue for major opera, ballet and dance productions while simultaneously functioning as a concert hall. The auditorium is built in a horseshoe shape with a classical proscenium stage that employs state of the art stage equipment and making use of top international standard lighting and sound systems. The playhouse with a height of 25,75 meters meets the needs of drama, chamber music but also international and traditional Chinese opera performances and other events that can be hosted in this multifunctional hall. Altogether 28 dressing rooms, three rehearsal halls and 21 elevators guarantee a comfortable working environment.
Harbin Grand Theatre's design excels due to its innovative ideas: The building's architecture allows for a natural flow of daylight, making it the world's first theatre to employ this new energy saving lighting model during non-performance times.
Bringing together beauty and novelty, the venue's interior design, modeled after an array of islands, as well as the terrace's dynamic streamline shape flow in unison with the theatre's exterior aesthetics. The playhouse stage is backed by a completely soundproof window font that makes it possible to use the outdoor landscape as a backdrop while at the same time providing the spectators with a new performance experience. The theatre's rooftop is the world's first that may be used as a walkabout for visitors to enjoy the scenic surrounding areas. By organically connecting different levels the whole theatre becomes a unique 360-degree all-weather viewing platform. Surrounded by streams of water Harbin Grand Theatre stands as a pier in the midst of the beautiful wetland landscape. Contributing to sustainability Harbin Grand Theatre proves that there is no need for luxury building materials. Making use of common metals, wood and cement instead, it demonstrates the importance of knowledge, experience and technique over extravagance.
Harbin Grand Theatre's quality manifests itself in many aspects: In order to equally satisfy the needs of fire safety precautions, acoustics and aesthetics its designers made use of GRC, glass fibre reinforced cement, as a base material with the wood panels being clad on its surface as a more decorative finish. Made from more than 20 million pieces of root wood from Manchurian ash, adding up to a total of 190 kilometres, the panels were carefully pasted together by skilled woodworkers one by one, polished and painted until eventually creating the illusion of a uniform solid-wood structure with its natural texture and colour. The theatre's steel structure combines a variety of today's top construction techniques, its main materials alone adding up to a weight of 7.000 tons, the equivalent to one Eiffel Tower. The outstanding engineering quality won it the "Lu Ban China steel structure gold award for engineering excellence". The theatre's metal roof expands over an area of more than 50.000 square meters, or the size of roughly seven football fields. Due to the complexity of its hyperbolic shape more than 30.000 metal plates, all unique in size and form, were produced, each formed in its own three dimensional mold and then applied piece by piece.
To achieve the effect of being inside a sparkling crystal despite using natural light exclusively, 56.655 acrylic triangles, each 12 centimeters high were attached to the third floor balcony. Construction cost, safety and quality have been successfully controlled and maintained as planned during five years of production and therefore resulted in a timely finish without incidents or delays. The venue celebrated its opening in March 2016. Harbin Grand Theatre wishes to not only continue Harbin's rich cultural tradition but to also become the new face of over one hundred years of performance history in the city of music.