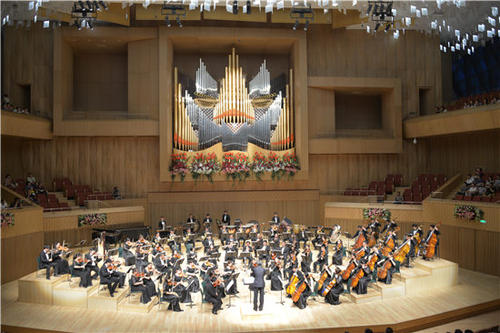 Harbin Symphony Orchestra is a century-old orchestra having strong strength. In April 1908, the Russian External Amo'er Military Orchestra played the Tchaikovsky's "1812 Overture", opened China's first symphony concert. Harbin Symphony Orchestra's predecessor was Harbin Eastern Railway Symphony Orchestra composed chiefly of Russian immigrants in 1908, once known as the first Far East symphony orchestra in 1920s to 1930s, later it is nicknamed old 'Harbin Symphony' by the music circle.
Since 1950s, the orchestra has successively cooperated and performed with conductor Delun Li, Feili Huang, Xiaoying Zheng, Xieyang Chen, Zushan Bian, Muhai Tang, Yongyan Hu, Xincao Li, Jinyi Jiang, Lihua Tan, Shucheng Shi, Yongji Wang, and other famous international conductors such as Richard Pontzious, Rzayev, Peter Foucault, etc.
In 2009, as the ambassadors of friendship representing 10 millions citizens of Harbin, Harbin Symphony Orchestra with the delegation of Harbin municipal government visited and performed in Aarhus City Hall, the Golden Hall in Vienna, the Athens Concert Hall in Greece, as well as Russia, Taiwan and other places. In 2011, Harbin Symphony Orchestra merged with Harbin Concert Hall Orchestra. Under international operation management, Harbin Symphony orchestra aimed to create a professional orchestra, drawn up a detailed plan of rehearsals and long-term development goals, developed their own music seasons and started Harbin's very first professional chamber orchestra.
In addition to the performances of their season, Harbin Symphony Orchestra also successfully performed at the opening ceremony of the 31st and the 32nd "China- Harbin Summer" concert, Harbin New Year concert, opening ceremony of China Harbin International Ice and Snow Festival, Russian conductor concert series, the 1st China-Russia Expo orchestra concert, the opening ceremony and closing ceremony of Schoenfeld International String Competition, and other major events.